UN, Western Nations Complicit in Drug Offender Executions, Report Says
from Drug War Chronicle, Issue #638, 6/25/10
With the United Nations' International Day Against Drug Abuse and Illicit Trafficking set for tomorrow, the timing couldn't be better for a new report from the International Harm Reduction Association (IHRA) decrying the complicity of Western governments and the UN Office on Drugs and Crime (UNODC) in international drug control efforts that result in the execution of drug offenders.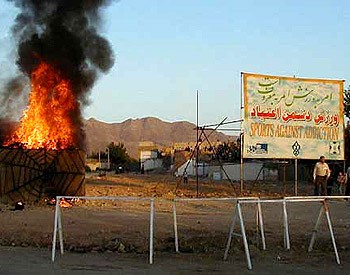 Take what happened in China on global anti-drug day 2008 as a case in point. As has been its wont in the past, the Chinese government used the occasion to execute numerous drug offenders, including Han Yongwan, a regional trafficker who had been arrested by police in Laos and later extradited to China. Han had been arrested thanks to the East Asian Border Liaison Office program, initiated by UNODC in 1993, and chiefly funded by the United Kingdom (24%), the United States (24%), Japan (24%), and Australia (10%). Other funders included the European Commission (3%), Sweden (3%), Canada (2%), and UNAIDS (5%).
Although the European Commission and nearly all of the donor nations reject the death penalty, the funding of programs like the East Asian Border Liaison Office means that those governments and organizations are complicit, if inadvertently, in the application of the death penalty to drug offenders, the IHRA found in a report issued this week, Complicity or Abolition? The Death Penalty and International Support for Drug Enforcement.